The Purple Pear isn't an ordinary name for a restaurant,
but then the Purple Pear is anything but ordinary!
Evoked your curiosity? Founded in 1994, "The Purple Pear has established a reputation for extraordinary food, elegant atmosphere and reasonable prices." – Hamilton Spectator
Located in the former Martin's Steakhouse, Hamilton's First Steakhouse, founded in 1948 by professional wrestler Martin Hutzler, that same quality continues with the Purple Pear. One evening at The Purple Pear and you will see why this historic restaurant and established restaurant have merged to provide you with the extraordinary quality to which Hamiltonians have become accustomed.
Visit the Purple Pear for an experience like no other and let it be your favourite destination for casual fine dining.
RESERVATIONS RECOMMENDED
DAILY CREATIVE CHEF SPECIALS
GIFT CERTIFICATES AVAILABLE
Owner Victor Buccella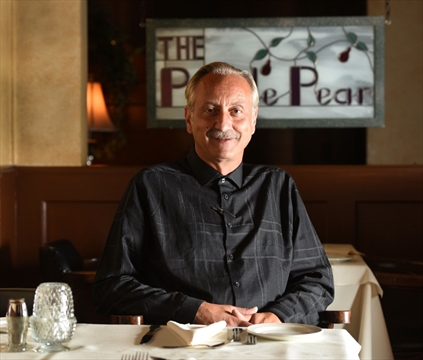 Photo by Cathie Coward, The Hamilton Spectator